Are you looking for a professional and affordable air freight forwarder? Transolution ensures fast and efficient transport of your parcels, pallets or containers worldwide. We take care of all the matters involved in getting your parcel to its destination worldwide.
Discover all the possibilities for your freight in the right-hand column and request a free quote immediately.
Request a quote in 3 steps
Fast, easy and secure air freight transport
Air freight transport is the fastest way to have your goods transported internationally. Transolution is the specialist in the field of air freight transport. We ensure that large and small shipments are carefully delivered to every corner of the world. Our integral service includes customs supervision and a worldwide network of accredited air freight agents.
Transolution is your professional partner for private and business shipments. We guarantee accurate arrival and departure times for your goods. You can deliver the air freight up to the last moment and follow your freight continuously with Track & Trace. We ensure clear communication and you benefit from competitive prices thanks to the purchasing advantage.
Suitable for large and small shipments
Precise and reliable arrival and departure times
Ability to deliver your freight right up to the last minute
Both private and business shipments
Competitive prices
Track your freight with Track & Trace
Specialised and certified in air freight transport
Transolution is a member of IATA, the International Air Transport Association. As a result, we do business directly with all airlines and we use international and intercontinental flights. The other side of the world is close by every day!
What other possibilities does Transolution offer?
Transolution offers total solutions in air freight transport, with the commitment that your goods arrive at their final destination as quickly as possible and in perfect condition. We take care of all your worries and deliver custom-made solutions, entirely in line with your instructions. As a recognised air freight forwarder, we can insure your goods and take care of the administration and documents before and after the flight. You do not have to worry about anything. You can opt for customised shipment, from airport to airport, from airport to door, from door to airport or from door to door.
Fully insured air freight
Door-to-door delivery
Declarations and document handling
Complete import processing, including warehousing (goods storage) and distribution
Delivery of dangerous goods

Sea freight transport
Would you like to send parcels, pallets or containers by sea freight transport? Check out the possibilities here!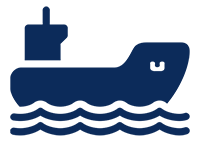 Contact
Would you like to contact us to find out what we can do for you? Go to our contact page!


Online store
Do you need packaging for the transport of your goods? Visit our online store!